Welcome to the North Orange County
Computer Club Web Site.

The NOCCC Web Site has many different pages. They deliver information about: club meeting location, maps, meeting dates, history, computer topics, the Internet, access to PDF versions of our award winning Orange Bytes Newsletter and more. We are a friendly club for computer geeks of all ages. We are always looking for new members who can teach us, learn from us, and have some fun.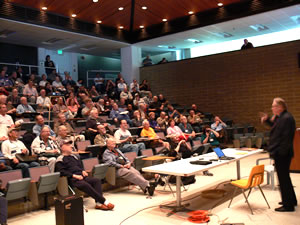 Our Newsletter has been published from 1976 to the present. Use the above links to access the Newsletter, or go directly to specific sections as you may find interesting. Our calendar of events is shown by following an above link.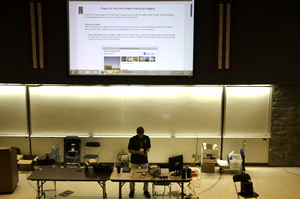 We meet once a month on the Chapman University Campus in the City of Orange, Orange County, CA. Meetings are always on a Sunday, usually the first Sunday of the month. If the University needs our assigned rooms, we move to a second or third Sunday of the month. As can be seen, our main meeting room is a comfortable auditorium.
Our SIG (special interest group) rooms are University classrooms. We are allowed to use their projectors and wifi networking. On Sundays we can park in an underground University parking structure all day for $2.00. Parking on most of the surrounding streets is by permit only. Without a permit, you get ticketed. A handycap placard trumps the permit requirement. Parking on the University side of the street is OK, but you are lucky if you can score a spot. Feel free to attend a meeting before joining. You might like it.
Thanks for looking! October 18, 2016